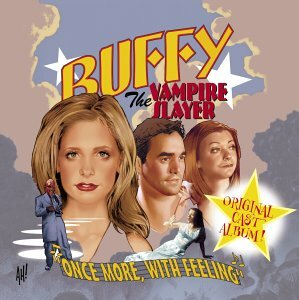 History


Even before the musical episode first aired, Joss was hoping to release a CD of its soundtrack, but it was never going to be easy, as he wrote on the official message board, 31 October 2001:
"We're definitely going to put one out, but it may take a while cuz of contract bull$@&%, MAN it's been a nightmare trying to set that up...I'm hoping to have a place at [BuffyUPN.com] for people to log on and click if they're interested in buying it."
At about the same time, co-executive producer Marti Noxon told Zap2it.com:
"It was going to be Joss putting it out on Mutant Enemy. Now it looks like it's going to be (20th Century) Fox putting it out, and that means it's going to take forever. That's too bad."
However, it was Rounder Records head John Virant who finally picked it up for an initial pressing of 100,000 units. Together with Joss's newly created Mutant Enemy Music, the disc finally became a reality almost a year after the musical first aired. "This is the first album for Mutant Enemy Records, my first soundtrack and my first musical" said Joss in the press release, "I couldn't be more excited about it. It represents the hardest work I've ever done.... I'm proud of this work. I'm glad people will get a chance to hear it"
On September 24th 2002, the Original Cast Recording of "Once More, With Feeling" was released to the world, coinciding with the season seven premiere of the TV series. It's worth noting that the soundtrack was Amazon.com's highest musical seller on the day of it's release.
---
Excerpts from Joss Whedon's liner notes
(You'll need to buy the CD to read all the funny bits...)
It's possible the word "vacation" has a different meaning for other people, but in my tribe it means "chance to work really hard on something else". So when I took my first real vacation since Buffy started...I figured it would be fun to write a musical.

Four mounths later, I returned to L.A. with a demo CD of 34 minutes of music, my hubris replaced by craven terror. Who was I kidding? How could I hide? Why didn't I learn to play the damn piano?


Besides my extraordinary cast, I had Chris Beck and Jesse Tobias working night and day to make me sound like a pro. Chris had already won an Emmy for scoring Buffy (check out his orchestral tracks at the end), and Jesse had played guitar for Alanis Morrisette and the Red Hot Chili something-or-others and was Musical Director/guitarist for Michelle Branch and Vanessa Carlton.... They were opposite extremes, and exactly what I needed for a show that was going to mix old-school musical orchestration with serious pop/rock.

They put together tracks that made the whole mush sound coherent, and then we brought in the cast. Some kicking and screaming — and, you betchya, crying — but all singing their hearts out, and most of them — I strongly suspect — having fun. And they blew me away.

My head was suddenly filled with visions of greatness: the musical would be a phenomenon! "Under Your Spell" would go straight to the top of the charts! Videos! Soundtrack album! Emmys Emmys Emmys!

But the one dream that mattered most came true.... A soundtrack. Of My Musical. It took a year (and the tireless and occasionally devious efforts of Chris Buchanan) to get it out, but now I have a real soundtrack album of my musical. With endless, pompous liner notes, just like the real thing. This makes it real. It makes it forever.