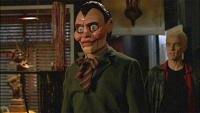 | | |
| --- | --- |
| SPIKE: | Strong... Someday he'll be a real boy. |

A reference to Pinocchio, the wooden puppet who must prove himself worthy of becoming a "real boy".
Written by Carlo Collodi in 1883, it is Disney's animated musical version Pinocchio (1940) which is most well known. It was Disney's second animated feature (see below for the first) and won Academy Awards for Best Original Score, and Best Song, When You Wish Upon a Star.
| | |
| --- | --- |
| BUFFY: | So... Dawn's in trouble. Must be Tuesday. |
Apparently Buffy can see right through that fourth wall and into the TV Guide.
| | |
| --- | --- |
| XANDER: | Plan, schman. Let's mount up. |
It's a stretch, but the Rocky Horror Picture Show includes the song Planet Schmanet
i.e. Planet Schmanet....?
---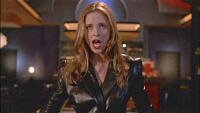 BUFFY:
Life's a show
And we all play our parts
This lyric paraphrases Shakespeare's "Seven Ages Of Man" speech:
"All the world's a stage
And all the men and women merely players:
They have their exits and entrances:
And one man in his time plays many parts...."

Jacques, As You Like It (II viii) William Shakespeare
BUFFY:

Where there's life, there's hope
Every day's a gift
Wishes can come true
Whistle while you work
Just whistle while you work
And cheerfully together we can tidy up the place
So hum a merry tune, it won't take long
When there's a song, to help you set the pace

- Whistle While You Work, music: Frank Churchill, lyrics: Larry Morey

Buffy's disillusioned recitation of positive-thinking clichés includes a reference to this song from Disney's first animated feature - a musical adaptation of the Brothers Grimms' fairy tale Snow White and the Seven Dwarfs (1937).
The movie also includes such cheery songs as The Silly Song, With a Smile and a Song, The Washing Song, One Song, Heigh-Ho, and the slightly pre-feminist Some Day My Prince Will Come.
| | |
| --- | --- |
| DAWN: | The hardest thing in this world...is to live in it. |
Dawn returns the advice Buffy gave her before jumping into the portal in episode #100: The Gift:
BUFFY: Dawn, the hardest thing in this world...is to live in it. Be brave. Live... For me.
---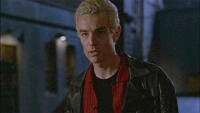 | | |
| --- | --- |
| SPIKE: | You should go back inside. Finish the big group sing. Get your kum-ba-yayas out. |

The "Kumbaya-yas" line is a pun on the titles Kumbaya and Get Yer Ya-Yas Out!.
Kumbaya is a Gullah spiritual song: "Kumbaya my Lord, Kumbaya"
Get Yer Ya-Ya's Out! is the title of the live Rolling Stones album recorded during their 1969 American tour. It is generally considered to be their best live album.
| | |
| --- | --- |
| SPIKE: | The day you suss out what you do want, there'll probably be a parade. Seventy-six bloody trombones. |
"Seventy six trombones led the big parade"

- The opening line to the song Seventy-six Trombones from the musical The Music Man (1957), book, words and music by Meredith Wilson. It won 8 Tony Awards including Best Musical, Author, Composer and Lyricist and was made into a Hollywood musical in 1962, starring Robert Preston (reprising his Broadway role), Shirley Jones, and a very young Ron Howard.
The musical also includes the song Til There Was You which was also covered by the Beatles, on their second album With The Beatles.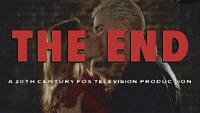 When I first saw "THE END" flash up, it looked familiar. There's something about the fonts, colors and size of the words that ring a bell, and I suspected it was another reference. My immediate thought was Rebel Without A Cause but, as that's not a musical, probably not.
My guess - if it is an intentional reference - would be one of the great movie musicals, maybe West Side Story, (particularly as the lyrics were written by one of Joss's inspirations, Stephen Sondheim), but as I don't have a copy of it lying around I can't confirm that.
If anyone does know which - if any - movie it is an homage to, please let me :)
---