The Poster
The now familiar artwork associated with the musical began as a poster designed by Joss Whedon to publicize the TV episode, as Joss explained on the Bronze message board:
"...has anyone seen the bills posted in LA (and maybe NY?) I designed (with much help from the masterful Jeph Loeb) a classic old style musical poster and the brilliant Adam Hughes (He does covers for Wonder Woman comics) painted it. It's something to see."
Rows of the posters were displayed on easels at the theatrical premiere. The artwork has since been adapted for the CD packaging, Script Book and DVD jacket.

The Artist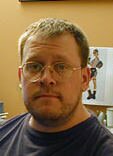 The artist, Adam Hughes, has done comic book artwork, covers and posters of some of the most famous characters of all time -- not just Wonder Woman, but others including X-Men, Justice League of America, Spider-man, Batman, Superman, Supergirl, Star Trek, Lara Croft: Tomb Raider, Star Wars, Indiana Jones, and Vampirella.
He specializes in stunning representations of the 'good girl' heroine female form (...how on earth did he come to the attention of Joss Whedon?)
He signs his artwork with his initials, plus an exclamation mark -- AH! -- which explains why his official webpage is called Things That Make You Go AH!
---
Here's a sample of some of his non-Buffy work...
...and here is some of the artwork that went into making the poster, from the Adam Hughes Archive.