Season 6 DVDs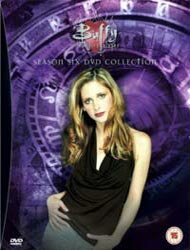 Release Dates
Region 2:
Region 4:
Region 1:
12 May 2003
14 May 2003
25 May 2004
Buffy Season 6 -- which, of course, includes "Once More, With Feeling" -- is now available on DVD for Regions 2 and 4. If you are able to buy the box set in 2 parts, it's Part 1 you want in order to get "Once More, With Feeling" and its special features.
By this point in the series releases, I'd expect all regions to get identical content, and the region 2 and 4 DVDs have a good set of extras. Those specific to "Once More, With Feeling" are a commentary by Joss Whedon, Three Karaoke sing-alongs, a behind the scenes featurette and Newswrap of the Tower Records CD signing.
Other Season 6 extras include:
Commentaries for "Bargaining","Smashed", "Hell's Bells", "Normal Again" and "Grave"
1-hour Academy of TV Arts and Sciences Panel Discussion
45 minute "A & E TVography" featurette
30 minute "Season 6 Overview - Life Is The Big Bad"
Featurette - "Buffy Goes To Work"
Outtakes reel
ROM content
You can buy the Region 2 box set through Amazon.co.uk.
---
Full contents:
Disc 1
Bargaining (Parts 1 and 2)
After Life
Flooded
Special features:
Commentary for "Bargaining" by Marti Noxon and David Fury
Disc 2
Life Serial
All The Way
Once More, With Feeling
Tabula Rasa
Special features:
Commentary for "Once More, With Feeling" by Joss Whedon
Three Karaoke sing-alongs [10:16]:
- I've Got a Theory/Bunnies/If We're Together
- I'll Never Tell
- Walk Through The Fire
Behind the scenes featurette for "One More, With Feeling" [28:15]
Easter egg: Newswrap - "Once More, With Feeling" Tower Records signing [1:45]
Disc 3
Smashed
Wrecked
Gone
Special features:
Commentary for "Smashed" by Drew Z. Greenberg
Academy of TV Arts and Sciences Panel Discussion [59:26]
Eight Trailers:
- Buffy Season 2 DVD
- Buffy Season 3 DVD
- Buffy Season 4 DVD
- Buffy Season 5 DVD
- Angel Season 1 DVD
- Angel Season 2 DVD
- Angel Season 3 DVD
- Buffy The Vampire Slayer Feature Film
Disc 4
Doublemeat Palace
Dead Things
Older and Far Away
As You Were
Special features:
Behind the Scenes Featurette - Buffy Goes To Work
Easter egg: ROM content
Disc 5
Hell's Bell's
Normal Again
Entropy
Seeing Red
Special features:
Commentary for "Hell's Bells" by David Solomon and Rebecca Rand Kirshner
Commentary for "Normal Again" by Rick Rosenthal and Diego Gutierrez
Disc 6
Villians
Two To Go
Grave
Special features:
Commentary for "Grave" by James Contner and David Fury
Featurette: "Season 6 Overview - Life Is The Big Bad" [30:19]
Featurette: "A & E TVography" [43:02]
Outtakes reel [02:38]